In 2008, URA released its master plan for the complete transformation of the Jurong East suburban hub.
Full details are available in the URA website
. Located right in the heart of the Urban Redevelopment Authority's (URA) newly developed Jurong Lake District concept, Ivory Heights is poised to benefit tremendously from the numerous amenities that will be developed in the near future. Key features of this new redevelopment plan will be the new Jurong Hospital to be sited in the vacant plot of land between the Jurong East MRT station and IMM; the Jurong Gateway mixed office cum shopping mall podium block, the refurbished Jurong Entertainment Complex and the Lakeside to consist of F&B outlets, waterfront promenades and boardwalks.
Under this exciting plan, the 360 ha Jurong Lake District will feature two distinct precints – a vibrant commercial centre (Jurong Gateway) and a water leisure park (Lakeside).
Jurong Gateway
– a total of 70 ha has been set aside for the development of the largest business centre outside the city central business district. Sited immediately adjacent to the Jurong East MRT, it will feature 500,000 sqm of office space and 250,000 sqm of retail, F&B and entertainment uses. A total of about 2,800 hotel rooms will also be developed to cater to business travelers and visitors to the leisure destinations around the lake.
Jurong Lake District
– Spread over 360 ha, Lakeside will be the biggest leisure park in the western part of Singapore, shedding off the industrial image of Jurong. A new water village and park by the lake will be developed offering visitors a range of F&B outlets, water promenades and wooden boardwalks for that leisurely weekend stroll. New water sporting activities will be introduced for the adventurous. All these will be located literally across the road from Ivory Heights.
Needless to say, with such exciting developments taking place in the near future, Ivory Heights will be the pre-eminent condominium in the west.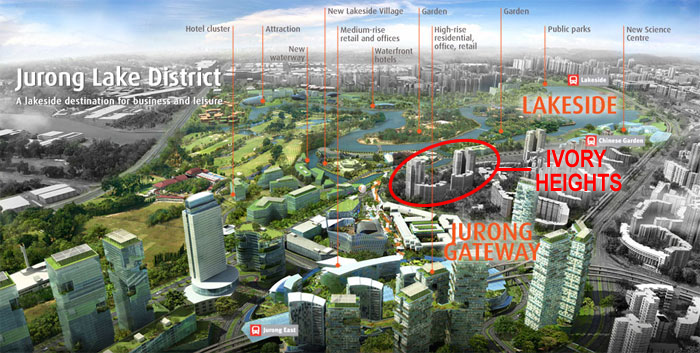 Artist impression of the Jurong Lake District concept - Courtesy of URA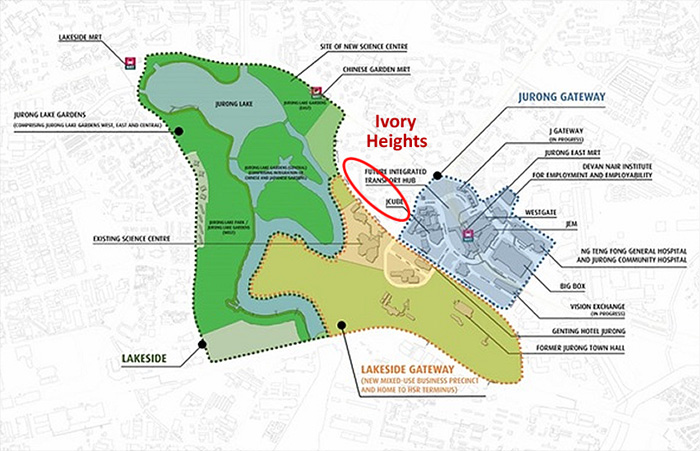 Location Map of Ivory Heights in the Jurong Lake District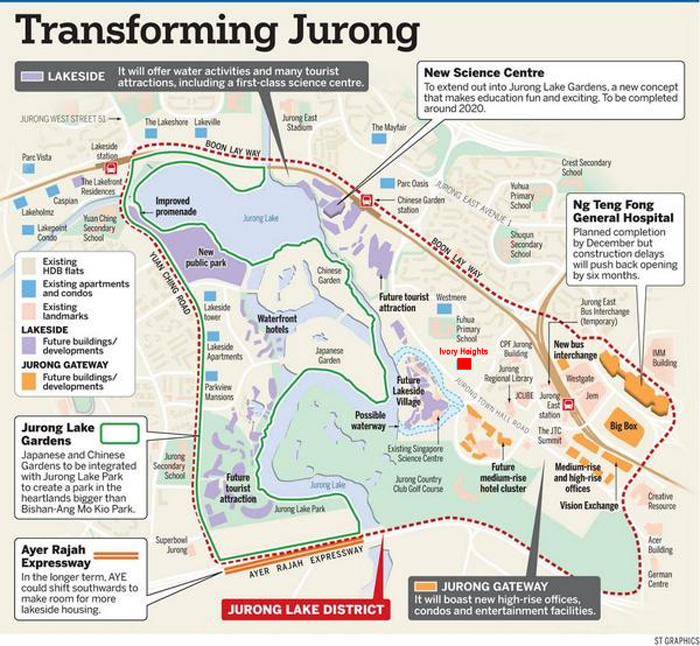 Location Map of Ivory Heights in the Jurong Lake District